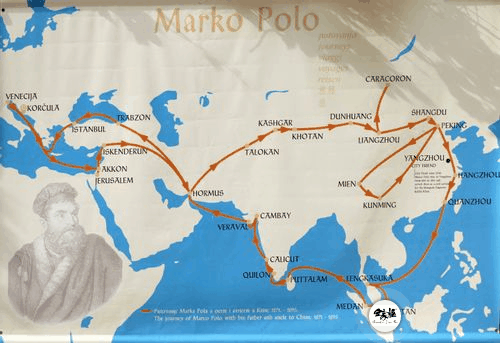 Travel back in time with us to learn how Chinese sausage (Lap Cheong) became a Classic and how this Italian Fusion recipe is using the same authentic Chinese sausage (Lap Cheong) that is made in Singapore. Retail at Teck Sang on Hong Kong Street.
Rumour has it that the world great explorer Marco Polo & his uncle, Maffeo, brought pasta (noodles of some sort) back to Italy from their China visit. Maybe. Others claim charcuterie (Sausage, bacon and ham ) was invented in China and were brought back to Italy by Marco Polo from China. The story has a certain romantic charm. Does it really matter?
But who invented pasta with meat sauce or sausage? Legend has it that spaghetti with sausages is descended from noodles, based on the premise that Venetian nobleman and merchant Marco Polo imported long, worm-like strands of the latter to Italy from China in the late 13th century.To many, though, the Chinese origins of Italian pasta are a myth.
Marco Polo did indeed spend several years in China, learning the country's traditions and culture, and he may have brought Chinese noodles and other foods back from his journeys. But Italian food historians say pasta culture was already flourishing in the Mediterranean region centuries before he travelled east, among the ancient Greeks and later among the Romans (see map).
"Noodles are one thing, pasta another food altogether," says Ms Anna Maria Pellegrino, a food historian and a member of the Italian Academy of Cuisine. " They reflect two separate culinary cultures and identities that have developed in parallel, the only conjunction being the need for nourishment and, above all, to share around the same table feelings and everyday life events.
The Fusion Cuisine (Italian with Chinese Sausage (Lap Cheong) recipe with a twist)
The romantic charm is what brings fusion cuisine and recipes together. It is not often that we see the meeting of eastern elements with western recipes to come up with a twist that is gaining so much attention that now recognized as an innovative repertoire for modern Master chefs. Fusion cuisine is the combining of culinary traditions that originate from different countries, cultures and regions. Finding and blending them with the right balance of taste, texture, favour, and a surprise twist
What goes with Chinese Sausage?
Pasta with Chinese Sausage (Lap Cheong) by a Master Chef of Thailand Chef Pam achieved that recognition and placed the Chinese Sausage (Lap Cheong) with all the top essential elements. The Cantonese style "Chinese Sausage (Lap Cheong)"earned its new role as the core ingredient to the Italian Marinara, Carbonara and Bolognese. Master Chef of Thailand Chef Pam famously introduced family her recipe with a spicy twist.
What is in Chinese Sausage?
With this new knowledge, If you would ask me what ingredients I have in my fridge, Ideal food Chinese sausage (Lap Cheong) would definitely be one of them! There are many variations of sausages across Singapore. The most well-known sausage is the Cantonese style, which takes over 60% market share in Singapore. The Cantonese style sausage is commonly made with fresh pork meat or liver and fat, chopped or ground, preserved with salt, soy sauce, sugar, and alcohol in a casing, and oven-dried. In Singapore, the most popular Brand of Cantonese style sausage is from Ideal Food, they manufacture locally full range and can be freshly pick up from Teck Sang on Hong Kong Street
Where can I find Chinese Sausage?
In Singapore, you can find typical Chinese sausage in any Chinese grocery store or Supermarket. To achieve the perfect texture blend, most chefs prefer the Sausage with chunky meat pieces and prepared with top-grade wine. This high-water benchmark is those produced locally by Ideal-food which use Rose Wine (玫瑰露酒) imported directly from China. It is a rose-flavoured sorghum liquor gāoliáng jiǔ (高粱酒) that is infused with fresh rose flowers petals and sugar, resulting in a fragrant liquor that tastes like floral vodka with a sweet aftertaste. The brand that I will only buy is ideal food sausage from Teck Sang on Hong Kong street.
How do I prepare Pasta with Marinara?
Pasta with Marinara is a classic dish, but in this recipe, we will show you how with an added twist to it via Chinese sausage (Lap Cheong) making all the difference. Chinese sausages have a sweetness to them which complement the acidity in the Marinara sauce and the creaminess of the Italian pasta. A simple classy, yet tasty dish that harmonizes both Chinese and Western cuisine.
INGREDIENTS
50 g Onion

Chopped 3 Tbsp Garlic

Chopped 3 cup Can crushed tomato

1 pc Cinnamon stick

Toasted 1 pc Star Anise

Toasted 1 pc Clove

Toasted 1 pc Bay leaf

Toasted 2 tsp salt (For Marinara sauce)

5 pcs Chinese Sausage

To taste Chilli Flakes

To taste Pepper 2 tsp salt (for the pasta)
DIRECTIONS
Step 1:
Slice the Chinese Sausage
Step 2:
In a frying pan over high heat, add a tablespoon of vegetable oil, and then add the sliced Chinese sausage. Sautee until the sausages are a dark red or brownish colour.
Step 3:
Add the sausages to a blender. Pulse the sausages a couple of times until the slices become like large crumbs. Set aside.
Step 4:
In a cooking pot over medium heat, add a tablespoon of vegetable oil, minced onion and minced garlic. Stir a bit before adding the rest of the spices, crushed tomato, salt and a pinch of chili flakes. Mix thoroughly and simmer for 30 minutes.
Step 5:
Add the sausage crumbs. Stir to mix and simmer for about 10 minutes. Add salt and pepper to taste.
Step 6:
Boil a pot of water. Add a bit of salt to retain the heat. Add the spaghetti and cook for 6 minutes or until the pasta 60-70% cooked. Drain out the pasta.
Step 7:
Add the pasta to the marinara sauce. Let the pasta cook and absorb the sauce. This should take another 3-4 minutes. Taste test the pasta before being ready to serve.
Conclusion
We hope you enjoyed our article about the versatility of the Chinese sausage (Lap Cheong) recipes. With this knowledge, we know that you will be able to add an Italian twist to your Chinese sausage recipes. So what are you waiting for? Get cooking today by visiting Tecksangonline.com or 11 Hong Kong Street, Singapore to pick up a fresh pack of our Ideal Food Chinese sausage (Lap Cheong).