3 Days in Singapore: The Lunar New Year edition (2020)
What would you do if you were to spend 3 Days in Singapore this Lunar New Year? Singapore Airlines Silverkris writer Mia Chenyze writes about how to spend 3 days in Singapore during the Lunar New Year. This year, we've been touring the world with Singapore Airlines and their premium magazine, Silverkris, and now we want you to join us at home this Lunar New Year. Experiencing Chinese New Year in Singapore is very different in other Asian countries. One of the biggest things that most Singaporeans will recommend any new visitor includes partaking in the tossing of Yu Sheng - the iconic Chinese New Year dish that is exclusive only to Singapore. Or watching the shopping rush at Teck Sang in Hong Kong Street, where the locals purchase ingredients for their Chinese New Year feast. There are many things to experience during your three days, and here is the best way to experience it all.
Day 1
We love Dempsey Hill, so starting off your breakfast at the leafy Tiong Bahru Bakery is a welcome surprise. This location is best known for many secretive but luxurious restaurants and fine dining. The bakery is home to a very colourful beverage menu, such as their antioxidant-building tumeric or beetroot latte, and their buttery croissants.
After breakfast, take the cab towards Admiralty Park. To nurture your inner child, have fun with the 26 different slides and playground equipment that's available, or take a hike amongst the natural habitats and observe the monkeys that call the mangroves their home.
Hungry? We guide you back to the central parts of the city for lunch. Balestier, once a gritty place for secret societies, is now a vibrant and popular hawker foodie hotspot. You must try our Singapore Fried Hokkien Mee or the Nan Xiang Chicken Rice.Your after-lunch coffee has two options; either the regular latte, or you can try the localised version of kopi at the hawker sellers. They're chalk-and-cheese apart, but really accentuate the differences in culture.
Afterwards, you can explore the local area with the Balestier Heritage Trail App. The locale is a treasure trove of instagram-worthy locations such as the shophouses at Sim Kwang Ho and the Sun Yat Seng Nanyang memorial hall.
After taking your shots, unwind with more shots of beer by ordering a beer paddle and other beer-flavoured dishes at Level 33, nestled high above amongst Singapore's skyline.
Day 2
Chin Mee Chin confectionery is for those who love the throwback aesthetic. 1950s mosaic flooring, wooden stools and marble tables are a friendly memory of Singapore's humble beginnings. Here you can start the day with a kopi and kaya toast - one of the staples of the Singaporean morning rituals.
Afterwards, you begin your journey past Mount Pleasant Animal Clinic to find the photogenic Perenakan quarter. Most of the houses were built in the event of high tides, prior to the building of East Coast Park. You may find yourself walking along Joo Chiat road ("Chew Chiat"), another picturesque place with pastel coloured porcelain wall-tiles and Peranakan-flavoured designs.
For lunch, head to Halcyon & Crane at the Paragon along Orchard Road. Their menu masterfully combines European and Sichuan cuisine such as mala sausage shakshuka and beef carpaccio with Sichuan vinaigrette.
Singapore is also home to transformation on the technology frontier. At Plaza Singapura, you'll find NomadX, one of several retail concepts in Singapore experimenting with a new high-tech approach to shopping. It's their gamified "onboarding" process that generates product recommendations based on your shopping personalities.
Next, cab it to Capitol Piazza for something a little sweet - try Tiger Sugar's brown sugar boba milk tea (fresh milk blended with brown sugar syrup and tapioca pearls). Be sure to ask for half or quarter sugar if you are the cautious type.
And for dinner, enjoy a seafood extravaganza at Famous Treasure restaurant, known for local zi char-style (home-style) dishes like salt-baked flower crab and wok-fried squid with okra and cincalok (fermented krill or small shrimp).
The party doesn't stop once the sun goes down. Light to Night Festival runs till 24 February. At the Arts House, "Common Life" features Ho Chee Lick's sketches of everyday local scenes with poems by Anne Lee Tzu Pheng in response to Ho's drawings. When you walk along the Singapore River to take in the night lights, the installation Resonance at the Asian Civilisations Museum offers a tactile representation of the present's impact on the future by inviting the audience to pull and push a metal mesh tunnel.
Day 3
Start the day at Chinatown Complex, which is as local as it gets. The hawker fare here is bustling with delicious and incredibly varied goodies that ring in the chinese new year. If you have time to spare, queue up at Xiu Ji Ikan Bilis Yong Tau Fu for the homemade yong tau foo(assorted tofu and vegetable items stuffed with fish paste) for a local breakfast.
The surrounding streets have transformed into a bazaar laden with Lunar New Year goodies, ornaments and waxed meats right up till Lunar New Year's Eve. Thereafter, the festivities continue with lion dance troupes clanging up a merry chorus through the area. The action continues up at Hong Kong Street, where you can experience authentic local shopping at Teck Sang - one of Singapore's oldest suppliers of Chinese New Year goodies. A popular favourite of the locals is their Double Happiness Chinese Sausage, and often at the peak of the season, locals queue up to get a bundle of the fragrant sausages.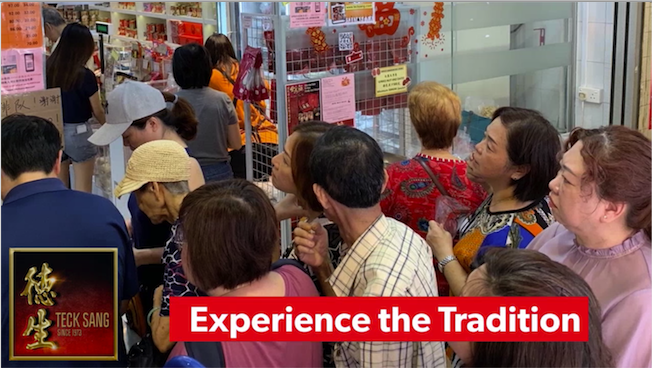 Locals queuing up to buy the special CNY sausage
No visit to Singapore is complete without experiencing the tossing of Yu Sheng - an exclusive dish only found in Singapore and Malaysia during Chinese New Year. Join in with a Lunar New Year lunch set (minimum two diners) at the National Gallery's Yàn. The staff will guide you through lo hei– a tradition of tossing the Yu Sheng dish, consisting of raw fish and veggies, while chorusing propitious sayings – before plying you with extravagant dishes of roast duck, lobster with aged rice wine, and more.
More photo-taking opportunities await at the Flower Dome at Gardens by the Bay, which has been transformed into a glorious Chinese garden with pavilions and over 100 dahlia varieties until 24 February.
We're not finished yet, but take a breather at Beach Road's Spa by JW, where your massage treatment includes complimentary access to the spa facilities.
Then stop by Fort Canning Park, where you can have a go at Keys of Light, an interactive piano installation that strikes a different animation with each note. As you stroll along the Singapore River and around Marina Bay, interact with the rest of i Light Singapore's installations. Be sure to keep a lookout for Sails Aloft– an out-of-this-world holographic projection of a 19th-century sailboat race.