6 Things You Need To Know About Yu Sheng
What are the 6 things you need to know about Yu Sheng? We were fortunate this year to be invited by Singapore Airlines to appear in their SilverKris Magazine that is the premium in-flight magazine that has been circulated around 67 countries in-flight and online. In Michele Koh Morollo's editorial article on the "6 things you need to know about Yu Sheng", she talks about the 6 things you need to know about Yu Sheng. The article highlights the history of Yu Sheng and the essential ingredients to make this an experience. Some of these essential ingredients can be discovered in our store in Hong Kong Street, close to the annual Chinese New Year festivities in Chinatown. Read her article here or in the link below.
What it is
Yu Sheng is a must-see for any Singaporean or any tourist visiting Singapore this Chinese New Year. It is a local dish with a name that translates to "Raw fish" 魚生, but it's a homophone for "Increase in Abundance" 余. This the well-wishing meaning of this dish. During the festivities, restaurants will be selling Yu Sheng dishes which usually contain salmon, abalone, and sometimes lobster. Chinese Specialty Stores, such as Teck Sang 德生, also sells the ingredients, such as abalone and salmon, to the hosts of CNY gatherings. Singapore Airline's editorial highlights the richness of this part of Singaporean culture. Yu Sheng is such a beloved and unique local experience, it is truly a once-in-a-lifetime experience. Singapore Airlines has done a fantastic job shining the light on this must-have dining experience for any traveller. The mood is usually celebratory, enthusiastic and joyous. Singapore Airline's article covers the meanings of the ingredients in their article in depth.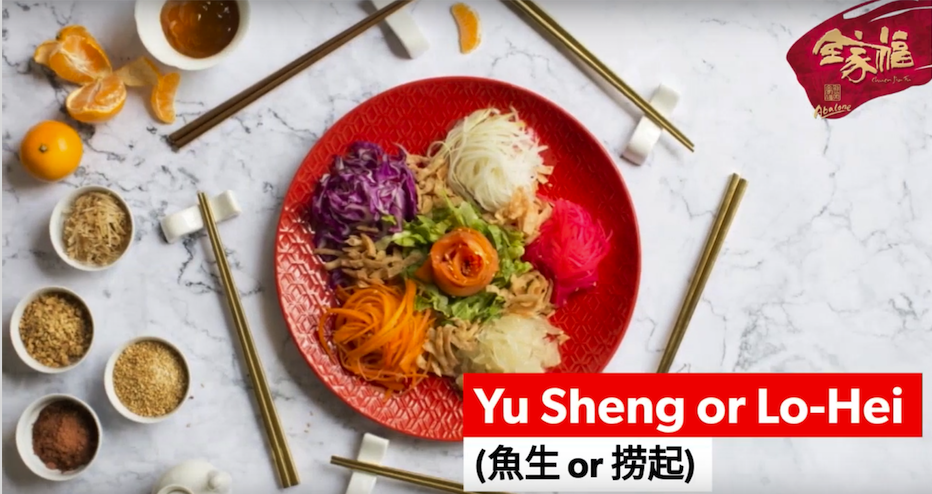 (Source: Singapore Airlines)
It's a Toss-Up
Lo Hei 捞起 is the action of tossing up the Yu Sheng dish. This act is the mixing and completion for blessings to come this year. Usually what happens during Lo Hei is the shouting of well wishes and blessings between loved ones to colleagues. For those lucky few who may have been invited to a Lo Hei event, we have suggestions for what to say and what to bring to a Lo Hei event later in the article.
Auspicious Phrases for every ingredient
Did you know that the ingredients of Yu Sheng have hidden meanings? For example, when adding the fish to Yu Sheng, the phrase "nian nian you yu" is said, which means "abundance every year". When lime is added, the phrase "da ji da li" is said, meaning "Good luck and prosperity." There are many more meanings, as listed below:
Carrots and Pomelo – Represents good luck.
Green Radish – Represents eternal youth.
White Radish – Represents good job opportunities in the coming year.
Raw Fish – symbolises abundance and prosperity.
Crushed Peanuts – Is a sign that your home will be filled with many valuable possessions.
Sesame Seeds – Represent the hope that your business will flourish.
Golden Crackers – Symbolises wealth.
Plum Sauce –Represents stronger ties among family and friends.
Pepper & Cinnamon Powder – signify the wish for wealth
Oil – Often drizzled onto the salad in a circular motion rather than poured over. This is to symbolise that money will come from all directions.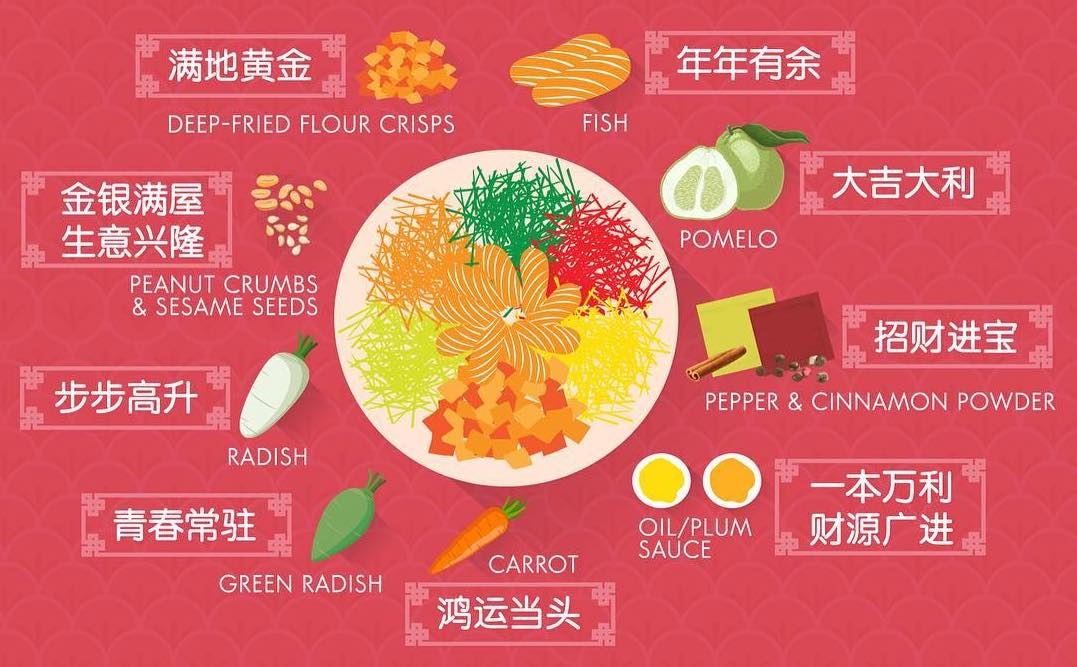 Source: City Harvest Church
Why can't I find this in China?
Yu Sheng is exclusively a Singaporean tradition, making Yu Sheng truly and experience for your travel bucket-list. In Singapore Airline's article, they trace the southern Chinese origins of the dish to its migration from the Cantonese and Teochew people to Singapore in the 19th century. Now, Singapore and Malaysia is the only place in the world where you can experience excellent Yu Sheng. Singapore Airlines recommends two locations in their article that you can access at the bottom of this post.
What do I say?
First-timers are usually tongue-tied to only "Happy New Year", "Gong xi Fa Cai", and "Xinnian Kuai Le". No problem! Here are 3 Chinese New Year phrases you can use at your first Yu Sheng Lo Hei event:
"tian tian mi mi!" – a Mandarin phrase meaning "May your relationships be sweet and fulfilling.".
"Sun Tai Gin Hong!" – means "Wish you years of good health!" in Cantonese.
"Zhu Ni Chuen Jia Sing Fu!"- A mandarin phrase that means I wish your family many happy blessings.
Must Bring to Yu Sheng gatherings
If you are ever attending a CNY event, it is customary to bring the host a gift to wish them a very happy CNY. A gift that makes every Singaporean happy is a can of Chuen Jia Fu Canned Abalone.
Abalone looks similar to the tael of gold. Putting this in your dish wishes the participants monetary riches, and adds a touch of extravagance. Furthermore, when abalone is added to Yu Sheng, it becomes "Bao Lo Hei", which changes the meaning to the dish with all your blessings "Combined All Your Blessings". What a wonderful wish!
The name, Chuen Jia Fu, means "Blessings to your family" – in combination, this gift means "I wish you and your family a year of blessings and monetary prosperity!" – isn't that sweet?
We recommend the Mexican Abalone or Premium Australian Abalone. Coming from the fresh deep seas off the coast of Mexico, the size of the Mexican abalone is what often wows their recipients. Our other recommendation is the Premium Australian Abalone, which is known for its texture and large-mid size.
You can purchase them at Teck Sang at 10-11 Hong Kong St, Clarke Quay or buy online now.
Other Options:
If you are looking for other interesting options, Traditional Chinese Sausages, known as La Chang, are also a favourite option. Usually, this is cooked for fried rice or sliced and fried to serve. Its hearty fragrance is reminiscent of childhood for many Singaporeans. You can pick up low-fat and lean versions of Chinese Sausage at Teck Sang during CNY. Best to get there early as this sausage is a local favourite during the season. If that's not an option, you can purchase them online for delivery too! The shop is open 7 days a week from 8:30am-6pm, but after 29th January, they resume normal business hours.