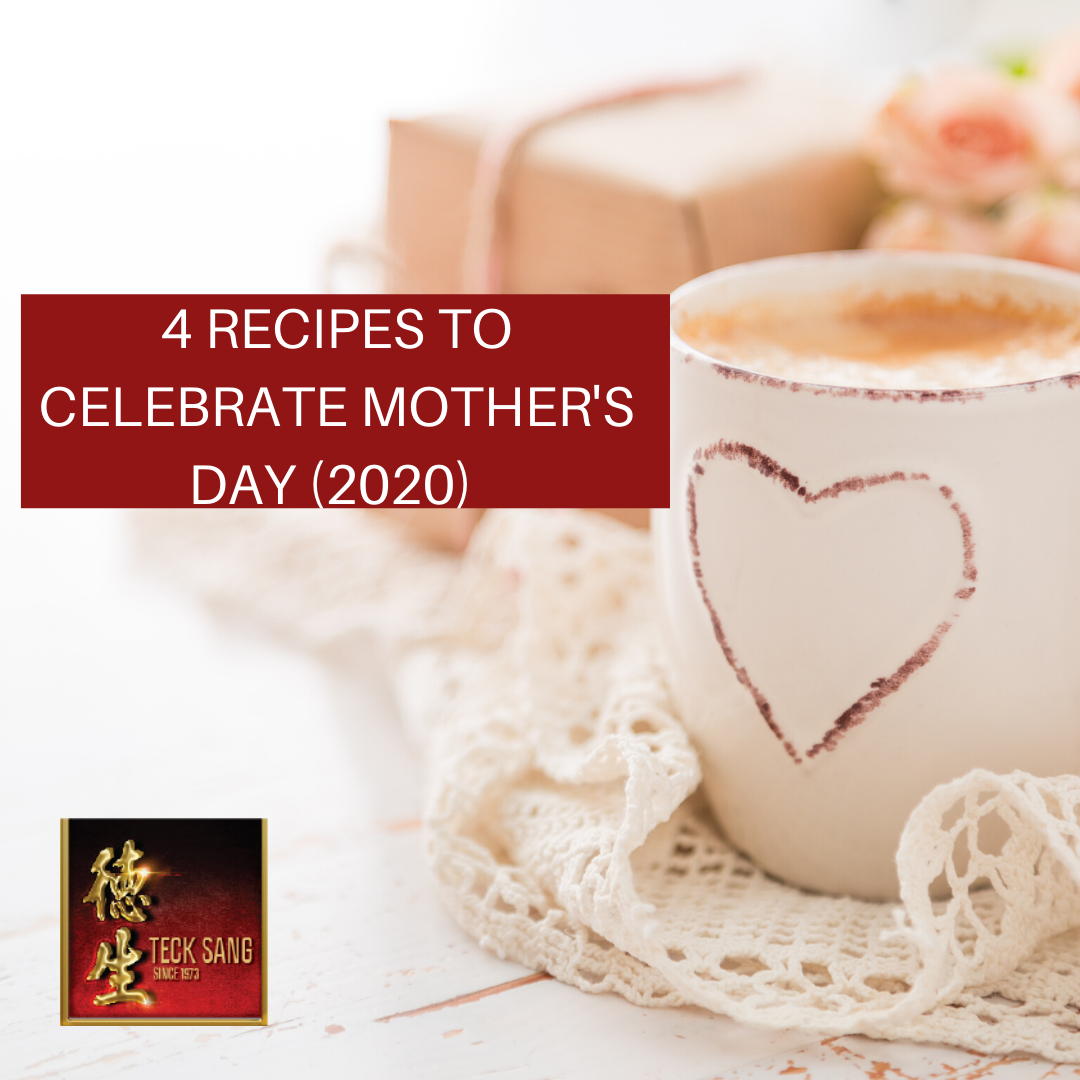 With Mother's Day on the way, indulge the mothers in your life with the tenderness she deserves. Don't let social distancing stop you from breaking out mother's day fun in the kitchen. Spoil your mum with these 4 delicious and wholesome meals for mother's day.
Chocolate and Roast Nut Tart
An elegant addition to the list, the Chocolate and Roast Nut Tart puts a nutty twist on the more traditional styles of pastry tarts. The base is made of Walnuts and Dates – giving the base a subtly sweet flavour the goes well with the flavours of the nuts and dark chocolate.
Ingredients
270ml can organic coconut milk
400g Cooking Dark Chocolate, finely chopped
1 tsp vanilla extract, 1 tsp vanilla extract extra
12/3 cups unsalted mixed nuts, chopped
100g Cooking dark chocolate, melted
21/2 cups walnuts
7 Dried Figs or a mix of dried cherries and berries.
1/3 cup Wholemeal plain flour
40g Organic coconut oil, melted
1 egg white
Method
1. Preheat oven to 180°c. Grease a 17 x 28cm loose-based tart pan.
2. Process walnuts and dried fruit in a food processor or blender until finely chopped. Add flour and pulse to combine. Transfer to a bowl and stir in coconut oil, egg white, vanilla and a pinch of salt. Press mixture over base and sides of pan. Prick base with a fork, line with baking paper and fill with pastry weights or dried beans. Bake for 15 minutes, remove paper and weights and bake for a further 5 minutes to dry. Set aside to cool.
3. To make the chocolate coating, pour the coconut milk in a saucepan over medium heat and bring to a simmer. Place chopped chocolate into a bowl. Pour warmed coconut milk over the chocolate, add vanilla and set aside for 5 minutes. Stir until smooth. Add 2/3 of the nuts and pour into the tart base. Press remaining nuts into the surface. Chill for 1 hour to set. Drizzle melted chocolate over the tart and serve.
Sweet Carrot Cake
This is a wholesome treat is perfect for afternoon tea, and even breakfast. Unlike Singapore's fried carrot cake, this cake is sweeter and looks more like bread with icing on top. This meal is perfect for a mother's day afternoon tea with a country-side touch.
Ingredients
175ml vegetable oil
Melted butter for the baking tin
75g natural yogurt
3 large eggs
1 tsp vanilla extract
200g self-raising flour
250g light muscovado sugar
2 tsp ground cinnamon
¼ finely grated, fresh nutmeg
100g raisins
100g pistachios, finely chopped
For the icing
100g slightly salted butter, softened
200g icing sugar
100g full-fat cream cheese
Method
1. Heat oven to 180C. Oil and line a bread loaf tin with baking paper. Whisk the oil, yogurt, eggs and vanilla in a mixing bowl. Mix the flour, sugar, cinnamon and nutmeg with a good pinch of salt in a bowl. Squeeze any lumps of sugar through your fingers, shaking the bowl a few times to bring the lumps to the surface.
2. Add the wet ingredients along with the carrots, raisins and half the pistachios. Mix well to combine, then scrape into the tin. Bake for 1 hr 10 mins or until a skewer inserted into the centre of the cake comes out clean. If any wet mixture clings to the skewer, return to the oven for 5 mins before checking again.
3. When it's ready, take the tin out of the oven and let it cool.
4. To make the icing, beat the butter and sugar together until smooth. Add half the cream cheese and beat again, then add the rest (adding it bit by bit prevents the icing from splitting). Remove the cake from the tin and spread the icing thickly on top. Scatter with some of the remaining pistachios. Then serve. Will keep in the fridge for up to five days (eat at room temperature).
Chickpea, Capsicum, Egg Feta Hash
Having a lazy morning date with mum? This is a classy meal perfect for those mornings where you just want to roll out of bed later, and even creep into brunch territory.
Ingredients
1 tbsp olive
1 onion, halved and silced
400g of chickpeas, soaked overnight
1 1/2 tsp cumin seeds
4 roasted red capsicum from a jar, torn into chunks
2-4 eggs
40g feta cheese, crumbled
½ lemon, zested
Chopped mint leaves
Sliced baguette, to serve (optional)
Method
1. Heat the oil in a frying pan. Cook the onion for 12-15 mins until starting to caramelise. Add the chickpeas, cumin and capsicum and season well, then cook for a few mins until hot throughout.
2. Create spaces in the pan for each of the eggs. Crack the eggs into the pan, then cover and cook for 2-3 mins, or until the eggs are done to your liking. Scatter over the feta, lemon zest and mint.
3. Serve alongside the baguette slices. You may have them untoasted or toasted. To toast, spread butter on the top side of the slice. Then, line the slices on a baking tray and place in the oven at 120 degrees C for 10-15 minutes. Check on them every 5 minutes until they are just starting to brown or the butter has melted.
Apricot Muesli Bars
Introduce a healthier addition to your mother's day breakfast. Dried fruit muesli bars are great for kick starting your day, or if you are craving for a little snack while working. These can be made in a batch and stored in the fridge for a week for meal prepping.
INGREDIENTS
3 cups natural fruit muesli
3/4 cup self-raising flour, sifted
2/3 cup dried apricots, chopped
2/3 cup desiccated coconut
185 g butter, chopped
½ cup brown sugar
¼ cup honey
Method
1. Preheat oven to 180 C. Lightly grease and line a 20 x 30 cm slice pan with baking paper.
2. In a large bowl, combine muesli, flour, apricots and coconut.
3. In a small saucepan, combine butter, sugar and honey. Stir over low heat, until melted and smooth.
4. Make a well in dry ingredients. Pour in butter mixture, mixing well. Press evenly and firmly into the pan, using a fork to prevent bars crumbling.
5. Bake 12 to 15 mins, until golden brown. Cool in pan. Cut into bars. Store in an airtight container.
Download the PDF version of this Article Below
Sources of Recipes :
BBC Good Food Guide
Woolworths
Singapore Women's Weekly