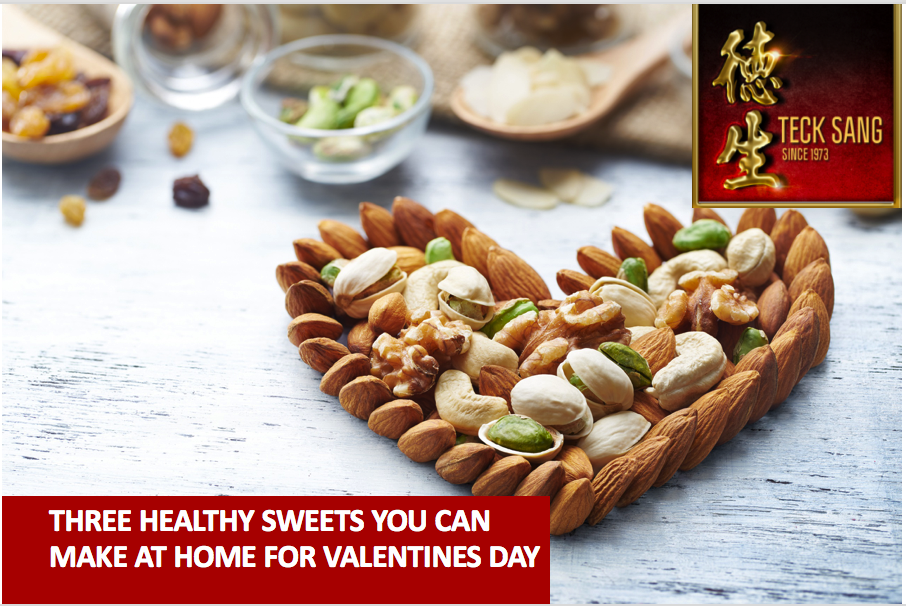 Valentine's Day is a perfect occasion for Chocolates. Who can resist smuggling in a few Lindt's or Ferrero Rocher bites into you typically healthy salads? But 'healthy' doesn't have to be unromantic. Here are three recipes we found from Taste.com.au that are a sweet substitute to your chocolate truffles. Have fun baking and cooking these delights with your significant other this valentine's season.



Almond and Date Bliss Balls



INGREDIENTS
210g fresh Medjool dates, pitted

160g (1 cup) natural almonds

2 tablespoons coconut oil, melted

2 tablespoons raw cacao powder

1 tablespoon maple syrup

1 tablespoon chia seeds

1/2 teaspoon ground cinnamon

30g (1/4 cup) almond meal
METHOD
Step 1
Place the dates, almonds, oil, cacao, maple syrup, chia seeds and cinnamon in a food processor and process until the mixture is well combined and sticks together.
Step 2
Place the almond meal on a plate. Line a shallow airtight container with baking paper. Roll tablespoonfuls of the date mixture into balls then roll in the almond meal to lightly coat. Transfer to prepared container. Place in the fridge for 1 hour to chill then serve.
Pistachio and Cranberry energy balls
INGREDIENTS
METHOD
Step 1
Process cranberries, coconut, almond meal, coconut oil, golden syrup,1/3 cup pistachios and 2 teaspoons of water in a food processor until the pistachios are finely chopped.
Step 2
Finely chop the remaining pistachios. Place in a bowl. Roll 1 level tablespoon mixture into a ball, then roll in pistachios. Place on a plate. Repeat with remaining mixture. Serve.
Apple and Pear Crumble

INGREDIENTS
2 apples, peeled, cored and chopped

1 pear, peeled, cored and chopped

1/3 cup raisins

1/2 cinnamon stick

3/4 cup water

1/2 cup self-raising flour

1/4 teaspoon ground cinnamon

2 tablespoons brown sugar

40g Butter or Margarine Spread
METHOD
Step 1
Preheat the oven to 210°C or 200°C if using a fan-forced oven.
Step 2
Place apples, pear, raisins, cinnamon stick and water into a saucepan. Cover and cook until the fruit is tender. Drain. Place fruit into a 1L ovenproof dish.
Step 3
Sift flour and ground cinnamon into a bowl and stir in the sugar. Using your fingertips, rub the butter or margarine into the mixture and sprinkle over the fruit.
Step 4
Bake for 15 minutes, or until golden brown. Serve with low-fat vanilla ice cream, yogurt or custard.
Don't let the flu season rain on your romance! Baking your own goodies at home is a labour of love best shared with your significant other. Did you know we now do online home delivery? Some of the items on the ingredients list can be purchased from our e-store and delivered right to your doorstep. Order your ingredients online today!
Learn more about healthy TCM soups you can make on a budget