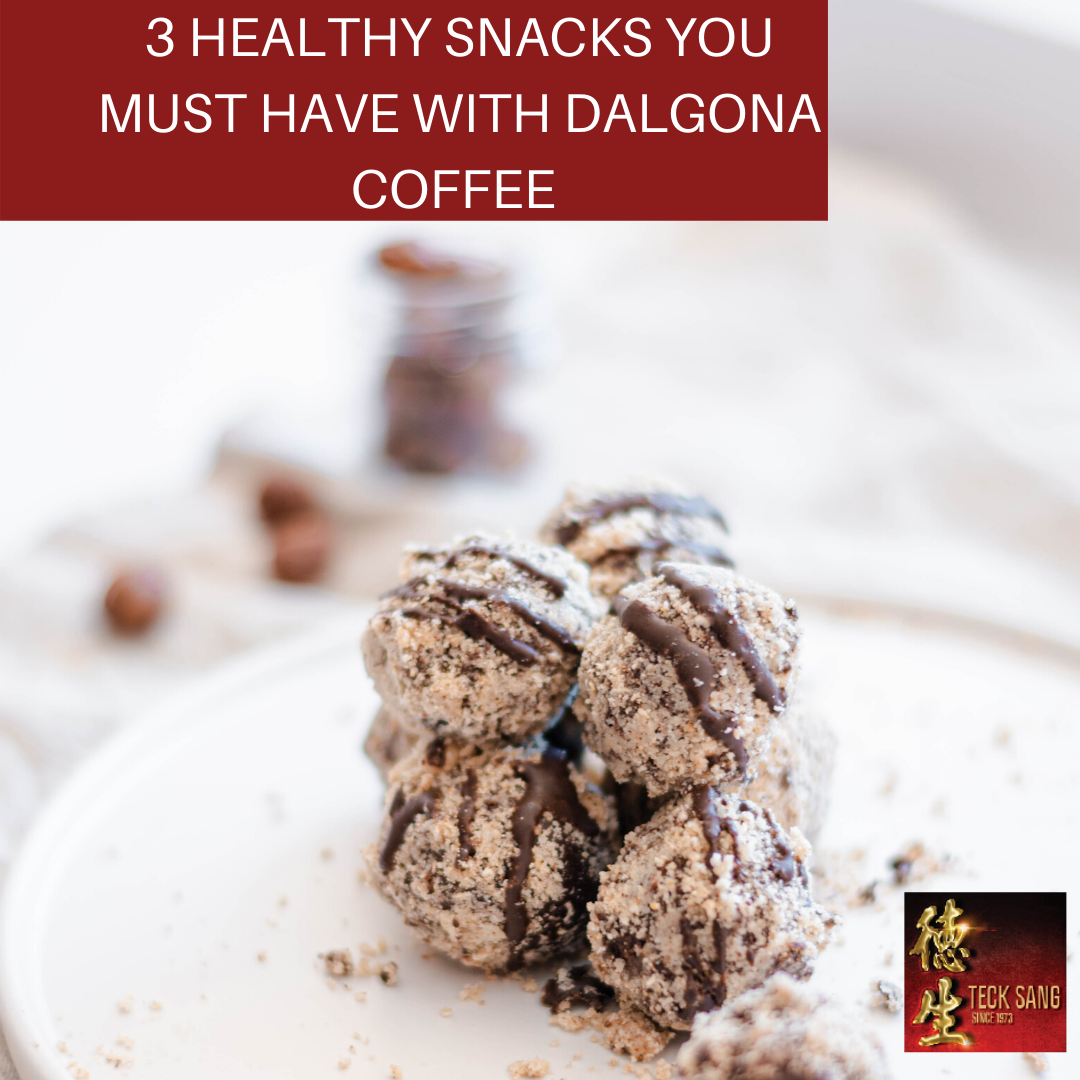 Last week I made the Tik Tok worthy Dalgona Coffee - and it worked! Now with Singapore on the brink of a full-scale lockdown, I may be experiencing longer days away from the luxuries of the bakery and cafes in the effort to reduce exposure. How can we simulate a cafe-like environment in the comfort of home? Simple: Coffee and add a little something to the side. So, in a similar fashion, here are three simple goodies you must have with Dalgona coffee (with an equally simple 3-5 ingredients and steps).
Chocolate Covered Nut-Bars
This recipe comes from Fit Mitten Kitchen, but we've switched up the game a bit to include ingredients that 1) Are well within your budget 2) Don't require a food processor. Medjool dates aren't easy to find, and they are quite expensive. However, dried fruits, like raisins, dried berries or figs are much more readily available and affordable in the supermarkets or local deli. And instead of using a food processor, we are resorting to our trusty blender.
INGREDIENTS
INSTRUCTIONS
Line an 8×8 pan with parchment paper and place on baking sheet, set aside.
In a food processor or blender add the dried fruits and nuts. Process until the fruits and nuts have broken down. Mixture should be sticky.
Transfer mixture to prepared pan, pressing evenly into all corners and press down flat.
Pour melted chocolate (I used microwave, microwaved at low power for 20 seconds for over 3-4 intervals, and mixed) over bars and spread evenly.
Place bars in freezer for 10 minutes to allow chocolate layer to set, or fridge for at least 40 minutes or overnight. Remove bars from pan and place on cutting mat for easier slicing. Using knife, gently slice into 24 bars. Enjoy!
Servings: 24
Breakfast Cookies
This recipe is perfect to kick-start your day. Breakfast cookies can be made just in time, or made and refrigerated the night before. This also makes an awesome snack for your post-workout replenishment as the ingredients replenish your energy and top up on essential fibre, proteins, vitamins and minerals.
Ingredients
4 Bananas
2 cup of oats (200g)
1/4 cup of crushed walnuts
1/4 cup of raisins
1/4 cup of almonds
Instructions
Preheat the oven to 180˚C
Combine the oats and banana in a mixing bowl. Mash the ingredients together and then mix well.
Add the crushed walnuts, raisins, and almonds and mix them in well
Bake for 12 minutes.
Servings: 16 cookies
Ugly but good Cookies
This recipe is a treat! For those who crave a certain hazelnut spread but without the heavy calories, this is for you. We've switched up the original recipe from Easy As Apple Pie by adding a a drizzle of chocolate for an elegant touch.
INGREDIENTS
1 egg white
a pinch of salt
1/3 cup + 1/2 tablespoon (80 grams) granulated sugar
2/3 cup (100 grams) roasted hazelnuts
100g melted dark chocolate (optional)
INSTRUCTIONS
Pulse the roasted hazelnuts in a food processor until coarsely chopped.
Preheat the oven to 150 degrees C (300 degrees F). Line a baking sheet with parchment paper.
Beat the egg white and salt in a bowl with an electric mixer until stiff peaks form.
Gently fold in the sugar and nuts.
Spoon the batter on the baking sheet with a teaspoon or a tablespoon (it depends on how big you want your cookies) about 4 cm (1.5 inches) apart.
Bake until golden brown, about 30 minutes. Remove and place on a wire rack to cool.
Drizzle the melted dark chocolate on the cookies. Let the cookies sit in the fridge for 10-20 mins for the chocolate to harden.
Store the ugly but good cookies in an airtight container for up to 1 week.
Servings: 10 Cookies
Image Source: Unsplash